Experience 'theREDBIKEway!'
It's a delight to 'virtually' meet you! Sometimes we need to let go of our tight grip on the handlebars, take off the training wheels, reach within and take a deep breath, and just believe as we find our way of life. Are you ready to start pedalling in a new direction? Isn't it time to ring your bell and move forward with a zest for life?
Like everyone else, I've lost my balance on occasion — fallen off my bike. But I've also overcome big obstacles on my path. I've strived to keep the delicate balance between being my Mom's primary caregiver in my home and single mother to my own daughter while working full-time. I understand what it takes to manage daily priorities and obligations while at the same time living fully with mindfulness. I gained valuable insights into the importance of self-nurturing and how not to lose oneself while caring for others. I have experienced hands-on the ins and outs of the medical system and the highs and lows of downsizing the family home. I can support you as I've been there.
My red bike over the years has become to me a symbol of the "cycle of life" and the need to pump up those tires and continue to move forward. I remember the day vividly from when I was 13. After an exciting venture to the bike shop with my Dad to buy my first new bike, he died suddenly of a heart attack. It took me years to gain acceptance of this new reality. Each stage of loss and grief, having now lost both my parents, has taught me to live more fully, "seizing the day!" One of my favourite memories is taking my Mom to Tuscany (while in her 80s and with Alzheimer's) and hearing her say, "I am finally in Europe!" I can support you in putting more 'life' back in your life.  
I have grown by triumphing over disappointments. Not being accepted into a music program due to the reality of having small hands led me down a different route where I recorded my own music. Enduring hearing loss from a mishap made me a better listener. Experiencing a hit and run bike accident taught me how the kindness of a stranger can change everything. Suffering from asthma resulted in a personal challenge of running my first 10K. Learning to be self-aware and manage my emotions in difficult situations and workplaces has been empowering and has given me wisdom. Embracing my personal core values of empathy, compassion, and creativity has offered me the freedom to be authentic with who I am and what I want to do. I strive to live life fully and cheer on others to do the same. I can support you achieve your dreams, goals, and desires. 
Coaching sessions will be available via Skype, phone, and chat. In-person appointments can be arranged for local clients in the Halifax (Nova Scotia, Canada) and surrounding area. My specialty areas are caregiver balance, grief acceptance, and emotional intelligence. I have completed The Life Coach Certification Group (ICF approved) Success Conversion Coaching Program and hold three International Coach Certifications with the Certified Coaches Alliance. I am also a Compassion Fatigue Resiliency Educator via the Traumatology Institute and offer workshops in Caregiver Balance, Writing Your Life Story, and Vision Boards. As a sociologist, I have taught part-time at a local university for several years and hold a MA in sociology (specializing in education, employment, and the workplace), and a MBA in executive management specializing in change. 
On the consulting side, I offer a variety of services such as life transition planning, ESL (English as a Second Language) teaching, and social media management. For over 10 years, I had the opportunity to direct a health charity in my region which gave me inspirational insights from those living daily with a chronic illness. Having an entrepreneurial spirit, I have owned three businesses and experienced the exhilaration, risks, and very long hours firsthand. Since I was a teenager, I creatively dealt with my grief by composing songs and released two independent CDs in the marketplace. In the words of Albert Einstein, "Life is like riding a bicycle. To keep your balance, you must keep moving."
Life Coaching
The cycle of life. I coach caregivers who care for their elderly parents, chronically ill loved ones, injured military spouses, and special needs children, 

When we ponder grief, we often connect it with dying. A caregiver can experience grief as a result of the losses he or she endures when caring for someone with a chronic illness such as loss of freedom,

financial security,

and independence.
Grief Coaching
The jigsaw puzzle of life. I coach those who are putting the pieces of life back together due to grieving a death or the chronic illness of a loved one. Other areas include addiction, baby blues, business closure, childlessness, cyber, school or workplace bullying, domestic abuse, downsizing, identity fraud, loneliness, PTSD, relationship breakdown, single parenting, stalking, or loss of unborn baby, child, pet, job, or home.
Emotional Intelligence Coaching
The wisdom of life. I coach executives on how to achieve professional goals with applying EQ skills. I coach clients on how to deal with their feelings and the feelings of others within their life circles. I help clients to perceive, understand, express, and manage their own emotions and the emotions of others in an appropriate and effective manner during transition and in different circumstances and environments.
Customized Consulting
The flux of life & business. I offer a diverse menu of consulting services for individuals, small businesses, and families ranging from brand and image identity to graphic & web design, to change & social media management, to copywriting & editing, to life transition planning & strategic downsizing. In addition, I also consult in the area of ESL (English as a Second Language) teaching for those undergoing transition to a new culture, country, or workplace. I help clients problem solve, develop, and implement new directives with fresh ideas, a close eye for detail, and a creative style.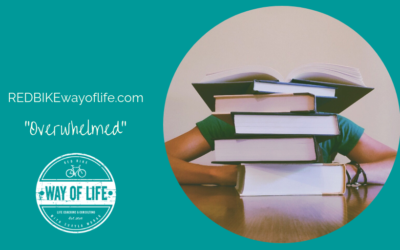 Do you have so much going on that you feel overwhelmed? A busy life with too many demands can lead to feeling overwhelmed and stressed. Work, family, and other obligations can prove to be too much at times. Working even harder to rectify the situation seems...
read more